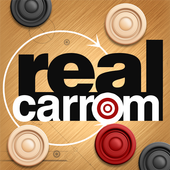 Real Carrom – 3D Multiplayer Game
Real Carmen – 3D Multilingual Game Description Description
Real Cormom Returns a unique 3d cormom board game experience for digital time!
Experiencing experience against real players in friends or with multiplayer mode online or playing local multiplayer. Play Quick Carmen games or challenge yourself with trick shot, timer mode and tournament!
About the game:
Caram is an easy-to-play classic board game for all ages! It is basically a popular sport from Southeast Asia, a concept with billiards, pools and shuffle boards.
The caramum board is 9 white, 9 black and 1 red (queen). Choose your strike and pocket to workers with precise control and power. One of the first to win pocket all your cadres! Play with the real people and return your coin.
Features:
• Play real-time malal online with friends and family.
• Use offline games in 3 difficulties: easy, medium or hard.
• Play local hotspot mobile hot pot or local WiFi.
• Choose 2 play modes: free styling and black or white.
• Play 4 game mode:
A sudden game – play a quick game of carmes to test your skills.
Truck Talk – Queen Challenge Pocket: Show your tricks!
– Bluetooth – Time mode: Each carmen pocket in 15 seconds.
The tournament – the first Champion crown, who scored 25 points!
Linear guide for smooth and precise shot control.
• Apply a complete row and level of strike!
• Challenge yourself for your top place in the leader board.
Require permission:
GET_ACCOUNTS – To sign in to the game using your Google Account.
READ_PHONE_STATE – enables us to notify you on various notifications and offers.
ACCESS_COARSE_LOCATION – To serve specific location and offer for your location.
WRITE_EXTERNAL_STORAGE and READ_EXTERNAL_STORAGE – to save your game development, data, game assets, caching ads and offers.
RECORD_AUDIO- It is necessary for ZIP RD to target ads related to relevant content and devices ("Services") in accordance with the goals and objectives of data consumption and other device data through this app. Be used for And RBL Terms of Service ("Terms of use").