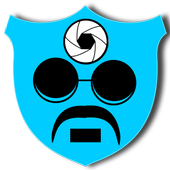 Third Eye
Third eye description
Use the third eye and catch all the mobile snaps with ease. The third-eye app will make your work easier to catch your own friends and family while they try to access their mobile phones. The third eye will take a picture when a person is attempted to access his mobile with a wrong PIN, pattern or password. You can catch the snoopers red hands using this app. It offers great features.

Features:
1. The app automatically takes a picture whenever someone enters a wrong pin, pattern or password.
2. Notify you of incorrect attempts while unlocking the lock screen.
3. Last unlock time feature will show you the last lock screen unlock time. With this, you can easily find if someone has used your mobile without your knowledge.
4. Login a detailed picture of mobile snoopers.
5. Very customizable settings.

Note: "This app uses the application administrator's permission." This app uses "disable attempts to monitor the device's administrative permission" to detect incorrect attempts in your mobile lock screen. Without permission, the app can not work correctly.

Note: To install the app, please close an in-app detection feature and install the app. Otherwise, you can use the install install installed directly inside the app.